Elite Pool Tile Cleaning Serving Northern California
Don't replace your tile....make it look new again!
View Before/After Gallery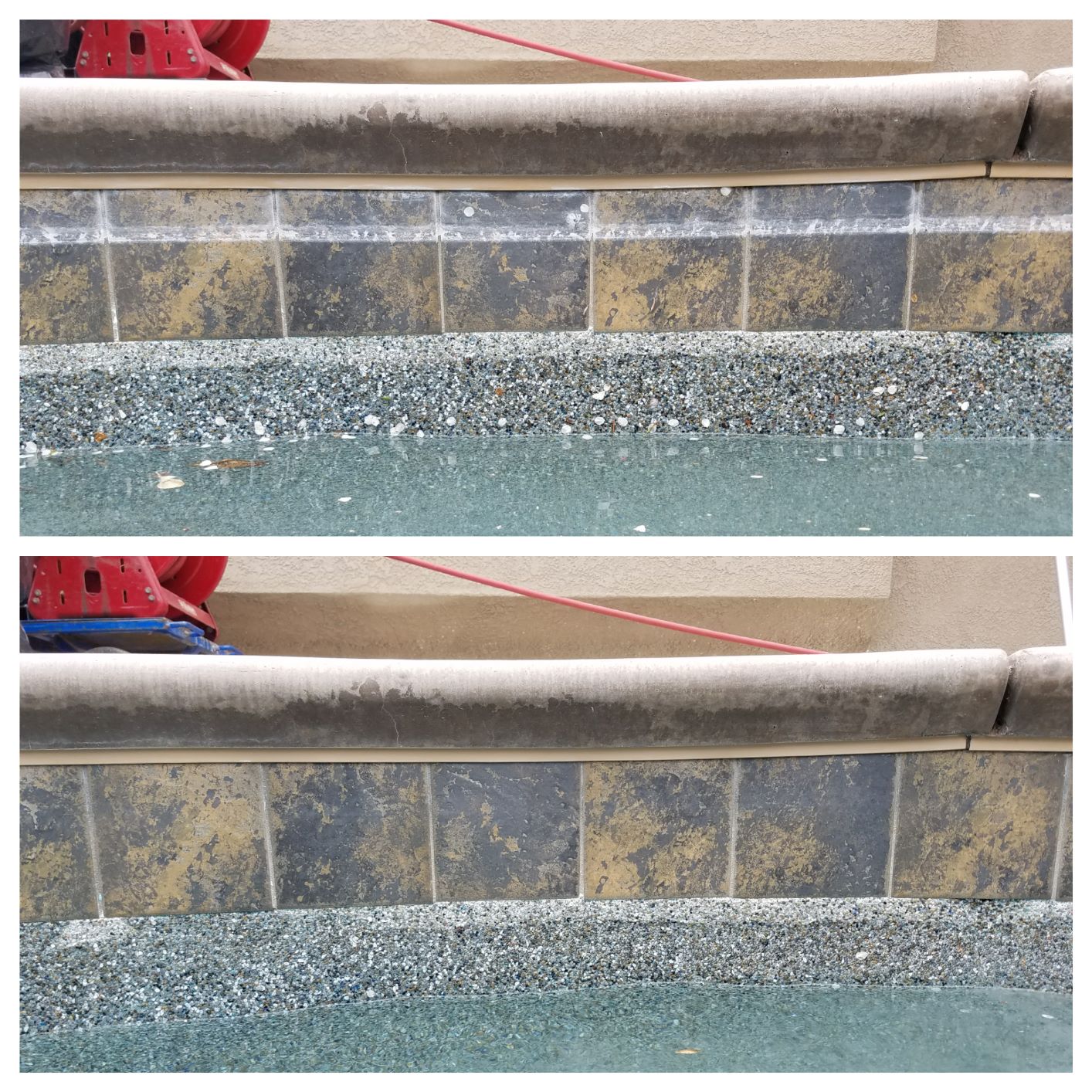 Our Hassle-Free & Chemical-Free Process
Transform your pool into a sparkling oasis with Elite Pool Tile Cleaning. Experience our revolutionary, chemical-free cleaning process that is both cost-effective and eco-friendly. Say goodbye to manual scrubbing and harsh chemicals, and hello to a beautifully restored pool!
Lowering of Water Levels

We lower your pool's water by 8-10 inches to prepare for cleaning.

Gentle Tile Cleaning

Utilizing eco-friendly glass beads, we blast away calcium buildup, restoring your tiles' brilliance without any damage.

Quick Clean-up

After the cleaning, we meticulously remove all debris, leaving your pool and spa area spotless and swim-ready.
Surfaces We Clean
We clean the following surfaces:
Pool Tile, Pebble tech, Natural rock, and Waterfalls.
If you have any questions about any of these surfaces, or any others, feel free to ask!
We're here for you 7 days a week during summer! Can't reach us? Leave a message, and we'll promptly return your call.
916-714-POOL (7665)
See Before & After Photos
Our Commitment
At Elite Pool Tile Cleaning, we pledge to deliver pristine pool tiles, competitive prices, and exceed your expectations. Our community-focused approach has made us leaders in pool tile cleaning since 2006.
No full pool draining required.

Safe for immediate swimming post-cleaning.

Various media options to ensure tile safety.

Long-lasting results, tailored to your pool's needs.
Have Questions? View our FAQs
Special Offers For You!
Good Neighbor Discount

Save $25 each when we clean your and your neighbor's pools on the same day.

Returning Customers

Enjoy 10% off your next service. (Minimum applies. May not be combined with other offers.)

Refer A Friend

Get $50 off your next cleaning. (Minimum applies. May be combined with other offers. Limit 3 per invoice.)